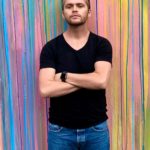 MR. PINKBRUSH
SWISS STREET ARTIST, SPEEDPAINTER,
CREATIVE DIRECTOR & ILLUSTRATOR.
IN HIS ART WHICH ARE VERY STRIKING and
COLORFUL unites mr. pinkbrush
Greek mythology and superheroes.
THE WORK AS STREET ARTIST,
old marble sculptures, HOLLYWOOD,
FASHION, THE LOVE TO ANIMALS  AND
THE COLOR PINK SHAPED HIS ART.
MR. PINKBRUSH – Fabian Froehly  studied at the School of Design
in Basel where he got his M.A. MR. PINKBRUSH started when he
was at the school with drawing comic figures and graffiti on the streets.​
In 2005, he started to paint on canvas interested by the facility to
preserve his artworks forever, considering that there's always the
possibility that Graffiti on the streets dis- appears over time.
​
He studied as a second career Design for Visual Communication.
The affinity for fashion and his great ability to express his fantasies
in artworks shaped his work.​  Since 2015 works Fabian Froehly
under his moniker MR. PINKBRUSH.
​
In his artwork, he combines influences from his experience with art,
graffiti- street art, contemporary art, comics, graphic design,
photography, and fashion. His talent for comic sketches, realistic
drawing, and painting, illustration and photography are recognizable
in his artworks.​