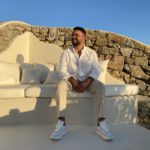 Benkograph – A Scrupulous Digital and
Canvas Artist
Art is a form of self-expression. An expression that makes one draw lines upon lines or splash colors over the other without any judgment of what the final product will become. People consider artists insane (literally and figuratively) because of their strong imagination. In a world full of blacks and whites, artists playfully make the picture brighter and colorful. Benjamin, artistic name as Benkograph, is one of those happy-go-lucky young and upcoming digital and canvas artists. Benko was born on June 10, 1996, in Switzerland and was raised there with Balkan roots.
The fairly young art creator always knew what kind of self-expression he would choose. Benko has been creating since he was a small child. He witnesses the earth and everything it encapsulates as something of wonder. Studying art at an academic level didn't sit right with the young virtuoso. According to him, one is either creative or not – art and creativity is not something one can learn. Benko started his creative career by creating some digital collages in 2016 on the photoshop software. Soon he found out that digital art was a thing, and he had the skills required to create something significant and meaningful – he discovered his talent by accident. From 2016 till now, his art has improved significantly and turned real modern pop-art digital art with canvas painting on the side.
Benko's art falls under "mixed media", which involves printing and painting on canvas. He realized that he was into canvas painting art when he painted on it for the first time and found it more fun and thrilling.
Before that, he had only known the digital art world. The mediums he uses for canvas painting are acrylic colors, resin epoxy, paint and glitter. He believes: "True principles of true art is not to portray, but to evoke." -Jerzy Kosinski. Never argue with an artist on what and how they create their masterpieces. Art doesn't require a specific technique and Benkograph wholeheartedly believes it. His artistic inspiration goes back to the 90s art. He envisions to bring back the 90s art with his artistic view and pieces. The artisan is interested in the fashion street style and 90s art. He mixes his 90s inspiration with famous brands to make it more appealing and captivating. Artists are engineered with a cool sense of humor, and so is the case with Benko. He is a comical guy who never backs down from challenges. Benko is forever ready to try new things to gain experience.
This highly creative artist's creativity is not limited; it changes from time to time. He has the skills and mindset to do anything and everything. He is genuinely a magnificent artisan who finds beauty and colors in everything he does. This fairly new artist aims to learn more and gain invaluable experience as time progresses. He aims to make his art expression famous and compete with the "big art names".